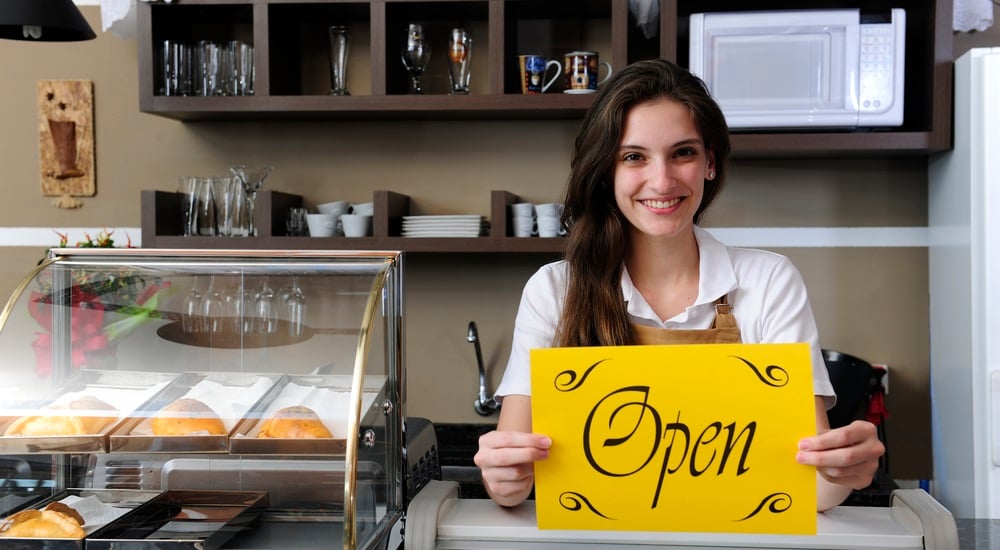 [This article was originally published in March 2021 and has been expanded and updated.]
Depending on your view of business blogs, they can be a literary exercise to showcase your brand, or a mercenary SEO tactic for driving traffic to your site. 
The truth is that it's a bit of both. And both are necessary for optimizing your blog posts for local traffic. 

The Business Blog: A Multi-Purpose Tool
If you own a "brick-and-mortar' business, odds are that almost all of your customers are going to be in a fixed geographic region. That could be just those within walking and driving distance, or those within your established delivery area.
But your business still has an online storefront – your website – and you still want people to find you there. That is, the "right" people – those who live or work close enough to your business to be potential customers.
And, if your website is like many others, you have a blog that may or may not get used much. But you probably suspect that it could serve your business better if you knew how to optimize it for a local audience.
In order to make your business blogging efforts as effective as possible – to optimize them – you need to be clear on what they are meant to achieve.
Here's a brief round-up of what other sources say about that:
"Business blogging is one way to help get your business out in front of people looking for your products or services on the internet." [HubSpot]

"The purpose of a blog is to attract visitors to your site. It's that simple. The more visitors you have reading your content, the more likely you are to convert these interested users into qualified leads and boost sales."  [Square2Marketing]

"Blogging is one of the easiest and most economical ways to get your business found by the relevant audience so you can generate new leads."  [Lyfemarketing]

"A blog is not only a great platform for people to interact with your business and to learn about your products or services, but when properly executed a blog drives traffic to your website." [ClickfirstMarketing]
So, in an ideal marketing world, your blog writing, structuring, and publishing is primarily done to make your brand – your website – visible to people searching online. More to the point, your blog can help your website get found online by those who need what you offer.
Not so sure about that?
According to HubSpot, businesses that blog regularly receive 55 percent more visitors than those who blog intermittently, and get 67 percent more inbound links than businesses that don't have a blog at all.
But the flip side of that purpose is the quality and context of your blogging efforts. What you say in your blog posts must be relevant, valuable, and geared towards the information that your potential audience is searching for. 
Your Blog as an Online Magazine – Sort Of
Perhaps the most well known "proto-content marketing" piece out there is John Deere's The Furrow magazine. First published in 1895, it was (and is) a publication designed to provide farmers with informative articles while promoting the John Deere brand. 
The key with this magazine was that it had a clear target audience, it provided authentic and valuable information in the form of magazine articles, and it managed to promote the company's brand without being a strictly advertising piece.
Your blog should do the same. 
Your target audience should be able to come to your blog for "authentic and valuable information" in the form of blog articles. And you will be promoting your company's brand in the process without trying to "sell" it.
This means that your blog posts must address the questions, concerns, and information that your select audience cares about. Sorry, but writing about your upcoming sale is not going to interest your audience nor will they find it valuable.
They're online searching for specific information such as an answer to a question or a solution to a problem,
Your job is to learn and know what your audience wants to learn and know, and then provide that for them in the form of well-written blog articles. 
But What About SEO?
This question is asked often and oftentimes without a clear understanding of what SEO is. For the purposes of this article we'll simply discuss it in terms of local search engine optimization. In other words, if you want to attract local online searchers, your blog structure should be optimized for them.
HubSpot describes it this way,
"Local SEO (Search Engine Optimization) is the process of improving search engine visibility for local businesses, primarily those with brick-and-mortar locations."
SEO has been around for decades – probably since 1991 according to some sources. And it has evolved and become much more complex and nuanced since the early days of simply plugging keywords into online text.
However, the focus on local SEO came about somewhat further down the road as marketers began to realize that consumers, shoppers, and others were looking for goods and services "near me" so to speak.
So, why is local SEO important?
As an article from Entrepreneur points out,
"Google alone processes an impressive 8 billion searches every day, but more importantly, nearly 50% of all Google searches are made by people looking for local products and services. If you don't have a local SEO strategy for your business, you'll miss out on valuable online traffic."
And local traffic is the lifeblood of any local business with an online presence.
This is reiterated by a post at Industry Today,
"With local SEO, your business gains more visibility in that it gets found by the right people who are interested in your product and at the right time. When your business is more visible, this means more profits, sales, and even relevance."
And our friends at HubSpot have noted that,
"Local search is powerful for small businesses: 46% of all Google searches are looking for local information. If your business isn't optimized for local search, you could miss out on potential customers ready to shop in your area. In short, local SEO is critical if you want your business to stay relevant."
The bottom line for most local, "brick and mortar" businesses is 1) having an online presence is practically mandatory and, 2) leveraging local SEO, or search engine optimization is best way to boost your online efforts to drive local traffic.
And a regular, frequent, and consistent business blog is one of the most powerful local SEO tactics.

So, what are the basics of good local SEO when it comes to blog posts?
Here's a brief rundown of the seven top tips for improving your local SEO efforts:
1. Promote your blog posts on social media.
"Cross-promoting your content on social media can help drive traffic to your blog. However, if you push out the same message to all of your networks, you'll miss opportunities for outreach and engagement. Instead, you need to tailor your posts to each network and audience." [SocialMediaExaminer]
2. Improve your internal linking structure.
An internal link connects one page of a website to a different page on the same website. An example is having a link in a blog post that connects to a product page.
"The basic theory is this: Internal linking strengthens the overall search-optimized value of a website. Inner linking does so by providing clear paths for spiders, prolonged sessions for users, and a tight-knit network of pages and posts." [NeilPatel]
3. Optimize URL, title tags, headers, meta description, and content.
"Every time you write a piece of content, you need to optimize the content for search engines by using high-volume keywords in the URL, title, header, meta description, and body." [HubSpot]
If someone else uploads and publishes your blog posts for you, this is something that person should be making sure is done. If you write and post your blog articles yourself, these are key pieces for improved SEO.
4. Get inbound links with relevance and authority.
An inbound link is a link coming from another site to your own website. The term "Inbound" is generally used by the person receiving the link. If a link to your website appears on another website, that is an inbound link.
Websites that receive many inbound links can be more likely to rank higher in search engines, however, search engines don't treat all inbound links the same.
5. Create local content.
This last item should be apparent to everyone if not obvious. But it is a crucial element that is often overlooked or left out of blogging efforts by businesses striving for local web traffic.
What kind of "local content" you might ask?
As HubSpot suggests,
"Be the local authority for your industry by promoting local industry gatherings, news, employees, and other educational content on your blog. Think of top-of-the-funnel content that goes beyond what your business sells."
And SearchEngineLand recommends the following content ideas for blog posts for this strategy, including:
Local event write-up.

Piggybacking local news stories.

Content centered on your business.

Content centered on your industry and unique to your area.

Answering local questions.

Generating local media coverage.
Of course, there is much more that you can do to improve your overall SEO performance. But when it comes to your blog posts, these five items are critical.
6. Add location pages to your website.
If your business has more than one physical location, or you provide services to distinct regions or geographic areas near your location, consider creating location pages. These are stand-along web pages that can provide readers with your company's name, address, phone number, and store hours.
In addition, you can include geographically unique references, delivery or service offering information, as well as localized promotions, and, of course, testimonials from happy customers in those specific areas or regions.
And as HubSpot suggests,
"It's also important you avoid duplicating content across multiple location pages. For single-location businesses, create a locally descriptive About Us page. You can even get bonus points if you add a Google Map to your website on your respective location page(s)." 
7. Make sure your website is mobile-friendly
By now, most everyone with a business website knows that it is absolutely essential to make it easy for your prospects and customers to view your site on their phones. And this is done with a mobile-friendly website.
Local search and mobile search are practically redundant considering that at least 61percent of all Google searches are performed on mobile devices, or smartphones. All of us do this when we look for reviews, and search for particular services or products available locally. In fact, mobile searches with the phrase "near me" have increased 250 percent since 2017.
Creating and Optimized Business Blog Successfully
A successful digital marketing strategy can be built using a business blog to drive traffic to your website and create new prospects for your business.
And, with the proper tactics in place, your brand can have an effective and efficient digital marketing process.
But achieving your marketing objectives with a great digital marketing strategy takes time and know-how. And it doesn't happen with a few, random blog posts or video content you happen to upload.
The overriding fact of digital marketing is that many people will consume your content for a while before they contact you. Yet, without your online content such as blog articles compelling them to contact you, your goals may never be met. And, without consistent, high-quality articles published at an optimum frequency, you may fall short of your goals.
The good news is that you don't have to do it all alone. In fact, one of the best investments you can make with your marketing budget is to partner with a solid firm like BroadVision marketing. Click this link to learn how to get more out of your blog posts, or call BroadVision Marketing at 707-799-1238.